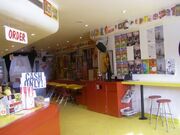 Tubby Dog is a hotdog restaurant on 17th Ave. Former "Calgary's favourite bartender" (FFWD Readers Poll 2004) Jon Truch has taken his infamous hotdog night from the Night Gallery and made a restaurant out of it: Tubby Dog features giant hot dogs will all the fixings you could imagine (and many you probably wouldn't, like the "Sumo Dog" with wasabi, japanese mayo, pickled ginger and toasted sesame seeds). They have arcade games too! A pinball table "Funhouse" (rules), the origional Super Mario Bros., Pacman and Rampage. They are licenced with a selection of domestic and imported bottled beers as well as the core hard liquors (whiskey, vodka, rum, Jagermeister etc.). There are always vintage cartoons or television shows projected onto the walls as well. You can also get pickled eggs ($1), assorted twinkies, and various hotdogs (1/3 lb. classic dog, turkey dogs, junior dogs, veggie "Not" dogs and a 1/2 pound family-recipe Ukrainian sausage). Onion rings, yam fries and tubby chips ( home cut fries) are also available.
This author has not yet spotted Truch in his hotdog costume at Tubby Dog yet, but he's holding out hope...
Tubby also offers many weekly and monthly events. Every Friday is "Rockin' Tubby", a night of DJ Carl Cassidy and Tubby himself, spinning R&B, Soul and Garage tacks all night long. Tuesday Nights feature "Tubby Taqueria". It's their "Authentic" Mexican night. They serve Tacos and Tostadas starting at 8:00 PM. But there is only a certain amount prepared and they sell out every week. Wednesdays are Street Fighter night, where you can come down and get shoryuken'd by the best street fighter players in Calgary.
Also, there is live music almost every Saturday night. Most events are listed on their website. http://www.tubbydog.com
Hours
[
]
Tubby dog is open Sunday - Thursday: 11:30 am - Late. Friday and Saturday: 11:30 am - Really Late. Friday and Saturday window service: 1:00 am - 4 am
Reviews
[
]
Tubby Dog is amazing! I have driven from Edmonton just to have one!!