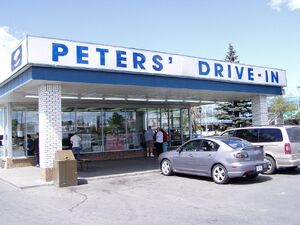 Peters' Drive-In is a local favourite. Old-fashioned milkshakes, sundaes, onion rings, and fries, and what are often ranked as the best burgers in Calgary. Everything is made fresh daily.
The drive-through lines can be terrible due to the huge popularity of the place; park in the free lot and walk up to the window instead.
Location
[
]
219 16th Ave NE Online map
(403) 277-2747
Hours
[
]
9 a.m. - Midnight, Monday - Sunday
Reviews
[
]
Everything2: July 13, 2002
HANDS DOWN, the best burgers in Calgary. I highly recommend the cherry shakes. -- (preceding unsigned comment by 24.68.95.101 21:30, 31 Jan 2005)
What are u talking about??? Good milkshakes, And the burgers DONT SUCK!!