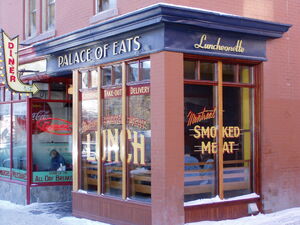 Palace of Eats is a restaurant that specializes in Montreal Smoked Meat. With limited seating, it is primarly a take out place. When the weather is co-operative, you have your lunch across the street at Connaught Park. It is right next door to the Galaxie Diner. Palace of Eats, the Galaxie and Belmont Diner, are all owned by Brad Myhre.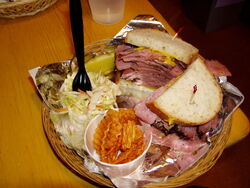 Location
[
]
1411 - 11 St SW Online map
(403) 244-6602
Hours
[
]
Mon-Sat 11AM-4PM
Menu
[
]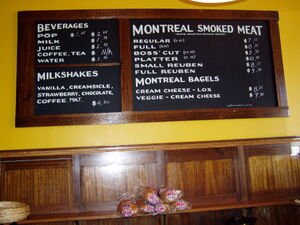 The menu is quite simple. Along with smoked meat, they also serve Montreal-style bagels with cream cheese. The milkshakes are among the best in Calgary. If none of this sounds interesting to you, you should probably dine elsewhere. Otherwise, enjoy!
External links
[
]
Reviews
[
]